Now Serving the D.C. Area!
Welcome To Loving Hands Podiatry
House Calls only, in the safety, privacy, convenience, and comfort of your home!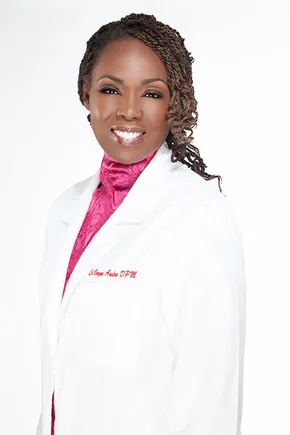 How beautiful are the feet that spread the gospel of peace. Having beautiful, pain-free feet is Dr. Andre's goal. She strives to give her patients the best treatment in the comfort of their home or office- sometimes on the same day.
Whether it's ingrown toenails, wound care, plantar fasciitis, heel pain, dry skin or corns and callus- even laser therapy can be performed in the home.

Book an appointment with Dr. Andre of Loving Hands Podiatry if you need a podiatrist in Maryland or DC.

The Advantages Presented by Mobile Podiatry
Health issues that affect your feet are uniquely troublesome because they can make it hard for you to carry out your daily routine. Tasks like exercising, going to the store, and cleaning the dishes are hard to complete if your feet are constantly throbbing in pain.
To make things even more complicated, seeking treatment is also a challenge if you have foot problems. Driving to the doctor with a sore foot is a dangerous undertaking.
Using public transportation is also difficult because you may have to stand around. There's also no guarantee that you'll get a ride right away and waiting for one can become uncomfortable.
Of course, you cannot afford to wait out your foot problems. Although some foot issues may clear up on their own after putting you through a lot of trouble, many others worsen without immediate treatment. You cannot take your ailing foot lightly so secure care as soon as you can.
This is where a mobile podiatrist becomes very helpful. Schedule a consultation with a mobile podiatrist and receive treatment from the comfort of your own home.
Mobile podiatry should be seen as a viable solution for folks struggling with foot problems.
Schedule your appointment with Dr. Andre of Loving Hands Podiatry if you need the services of a podiatrist in DC or Maryland.
Conditions Treated by a Mobile Podiatrist
You may be concerned about a mobile podiatrist's ability to treat your foot problems. Rest assured that they are fully capable of providing expert treatment and strive to get to patients quickly.
Mobile podiatrists can treat ingrown toenails, bunions, warts, athlete's foot, tendonitis, sprains, and fungal issues. They can also address more serious concerns like infections, arthritis, dermatitis, plantar fasciitis, and complications related to diabetes.
No matter the nature of your issue, your mobile podiatrist will be able to present a solution.
Call 301-323-5652 to book your appointment with Dr. Andre of Loving Hands Podiatry if you need the level of care that can only be provided by an expert podiatrist in DC or Maryland.
---
See What Our Patients Are Saying About Us:

"I am so relieved to have found Dr.Andre when I could no longer get to any office for diabetic foot care & ingrown type nails. I have had many successful treatments by DrAndre of my recurring nail and vein troubles."
L.A.
"Our family is pleased to recommend Dr. Andre to care for the feet of bedridden persons. She responded immediately, visited within 24 hours, treated the ulcer on my Mom's heel, recommended products to help prevent future problems, and provided samples of products to keep us stocked while we ordered and waited for the delivery of specialized wound care products. She is extremely caring and competent, and actually visited our home a second time at no additional charge. This foot saving care well exceeded the fee for her service. She was a God send for my 90 year old mother. "
Imani K.
Thank you so much for taking care of my Dad! He was absolutely thrilled and, to my surprise, he thoroughly appreciated the treatment.
Coincidentally, when I mentioned your name and business to my wife, she remembered you from performing the same services for her Dad. ...your treatment services were well received. SO consider yourself as part of the family(LoL).
G. W.
"Dr Andre was a voice of reason when my mother was getting conflicting advice and treatment for her poor leg circulation and non healing wounds. Not only did Dr Andre help my mother heal but her advice and guidance resulted in timely surgical and non surgical procedures that saved my mothers foot from probable amputation. Thank you so much !"
-Erica L.
Dr. Andre visited my mother-in-law at our home since she is bedridden. She kindly fit our visit into her schedule for a same day appointment. She was extremely pleasant, professional and thorough. My mother-in-law was made to feel very comfortable and confident in our decision to contact Dr. Andre. Everything was stress free and explained to us thoroughly. we would highly recommend Dr. Andre to other people. "
-Monica B
For several years I had a bothersome pain in my left knee. I asked my doctor in 2004 about what I could do about the popping in my knees. He said that looking into that was like chasing smoke, nothing could be done, maybe one day I'd need knee surgery.
But just last year I met Doctor Hayse, a Podiatrist. She checked my feet and prescribed orthodics that fit into my shoes instead of the regular insoles that come with them. She was kind and explained things so I could understand and billed my insurance. It was a hassle free process. And what's best, I am thankful to Doctor Hayse because I no longer have knee pain, I am at the gym nealy everyday of the week with no problem. My knees no longer pop, make noise or hurt. Thank you Doctor Hayse, you've helped me tremendously.
- Jimmy Munoz, MDiv
Proudly serving: Anne Arundel County, Howard County, Montgomery County, Prince Georges, Maryland and DC | HOUSE CALLS ONLY, IN THE SAFETY, PRIVACY, CONVENIENCE, AND COMFORT OF YOUR HOME